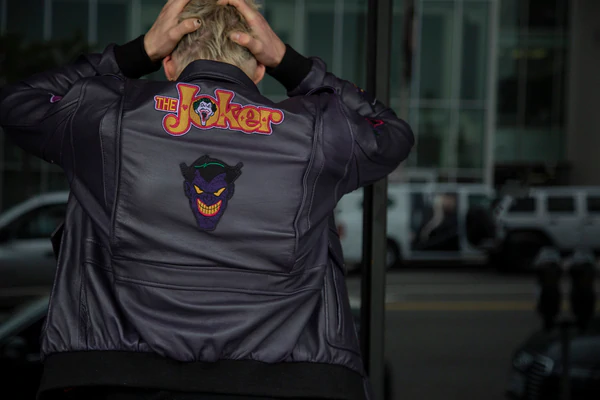 Perfect for Cosplay, Costume, and Everyday Wear.
This classic yet edgy leather bomber jacket shows the world that you are smart and unpredictable like Batman's arch nemesis the Joker. Both the mens and womens Joker jackets are individually handcrafted from high-quality leather with soft viscose linings for maximum comfort. The leather Joker jacket features a deep purple color with two exterior pockets and two interior pockets to store all your trickster's devices.
This leather jacket features double stitching for maximum durability, a zippered front with snap closures on the collar and waist, plus two flap pockets on the waist, two interior pockets, and cotton cuffs for easy on and off.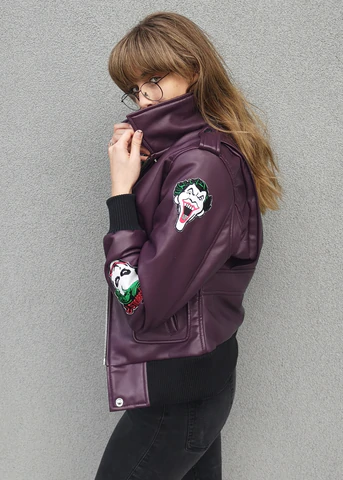 Handcrafted.
Designer Quality.
Unique.
The jacket's vintage style patches are available in the original white or can be hand-dipped in purple for an edgy weathered look. As unique as the Joker, this bomber jacket sets you off in style.
Each Joker, from Joaquin Phoenix to Mark Hamill and Jack Nicholson to Jared Leto and Heath Ledger is reflected in this jacket. Both the womens and mens Joker jackets are available in vegan leather or real Napa leather. For an edgy couples vibe, one jacket can sport the hand over-dyed purple patches and the other can showcase the white patches for a complementary and eye-catching look. The hand sewn patches use images from the iconic Joker characters, including the classic Batman series and The Dark Knight.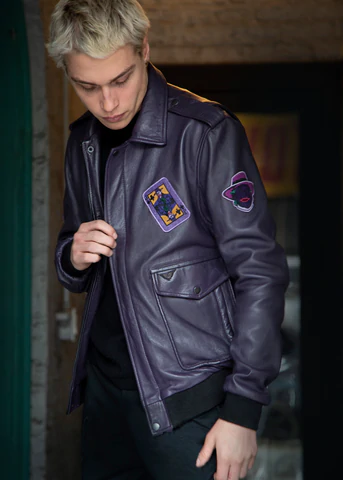 The Joker Jackets Keep You Ready for the Joker's Tricks.
The Joker is well-known for his tricks and double-faces. Ready to surprise his nemesis, Batman? This jacket is a visually stunning way to send the message to Batman, Robin and other good guys in the world of Gotham. Show Batman and the other characters that you mean business. Like Heath Ledger's Joker says, "Smile because it confuses people. Smile, because it's easier than explaining what is killing you inside." Keep smiling in this handcrafted homage to all your favorite Jokers and remember,
"Never put the key of your happiness in someone else's hands."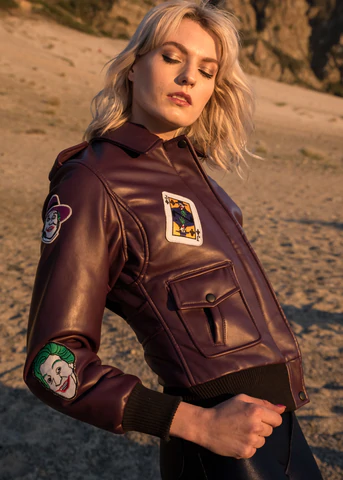 How to Wear the Joker Bomber Leather Jacket for Men and Women
This comfortable bomber jacket by Luca Designs can be worn with jeans and sneakers, or with your comfortable ankle boots. Black leather pants make an edgy statement about you when paired with this deep purple leather jacket. Available in your choice of real leather or soft vegan leather for the ultimate outfit for game night, hanging out with friends, a special date, or anytime you want to make a lasting impression. How about going to the new Joaquin Phoenix Joker movie with the Joker leather jacket, and getting your friends to wear their Luca Designs Batman leather jacket and Batgirl leather jacket? The hand-crafted leather, special details and comfortable styling all make a fashion statement to help you stand out from the ordinary. Wreak havoc on Gotham with the Suicide Squad in this stunning purple Joker leather jacket.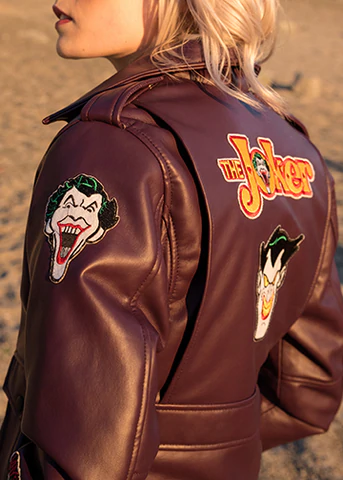 More for the Joker You Really Are
Yes, there is more. This jacket is available in high-quality real Napa leather as well as soft vegan leather. For more information, click here to learn about Napa leather and vegan leather. Both versions are comfortable and stylish. Both mens and womens jackets feature the deep purple color iconic to the Joker. All the new Luca Designs jackets sport the unique Luca Designs metal emblem on the jacket for authenticity. Men and women can wear this jacket together as couples for cosplay, game nights, or just for fun to show the world you have real style as individual as the Joker. What about teaming up with your friends (or nemeses) in the Batman or Batgirl leather jacket, or getting a group of friends together in their Luca Designs jackets to hit up the nearest Comic Con?
Sizes run small, so be sure to carefully check the sizing chart before you place your order. Luca Designs creates handcrafted jackets with inclusive sizing, offering the Joker bomber jacket in a size XS to 4XL, with custom sizing available to ensure your perfect fit. Even the Joker isn't always serious. Have the last laugh! Slip into this Joker jacket for the ultimate street style look.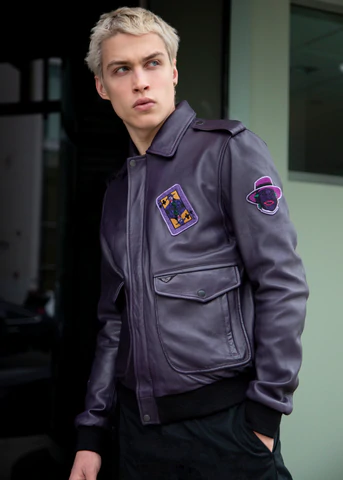 The Joker Bomber Jacket for Men and Women
Get your new favorite Joker jacket today by clicking here for mens and here for womens. Both jackets are available in vegan or real leather, with your choice of the original white patches or hand-dipped purple patches. Luca Designs is proud to offer inclusive sizing (XS-4XL) and affordable custom sizing to ensure your perfect fit.
Check our other blog posts for more information about the Luca Designs real leather and vegan leather jackets. You may find more than one you love.