It's a week before your next convention and you're scrambling to come up with a new cosplay idea. What can you do for an easy cosplay? The best answer we can give you is simple: make a closet cosplay.
A closet cosplay involves finding pieces of regular clothing in your closet to make a cosplay. Usually, this involves pairing a wig and character makeup with your outfit in order to resemble your favorite character. It's an easy cosplay that you can typically put together within a week or so before your next big comic-con.
Lucky for you, Luca Jackets has plenty of designer character jackets to make your closet cosplay even better. Check out these 5 easy closet cosplays that cosplayers have done using our awesome leather fandom jackets!
Trunks
Leon Chiro is a professional cosplayer. We are honored that he chose our Men's Future Trunks Dragon Ball Z Leather Jacket for his Dragonball Z cosplay.
Leon uses his tailored wig, animated embellished jeans, and a black shirt as the base of his Trunks cosplay. Combined with our leather jacket and some badass makeup contortion and he turns himself into one of the best Trunks cosplayers on the internet!
https://www.instagram.com/p/B7u69PCnysW/
Harley Quinn Closet Cosplay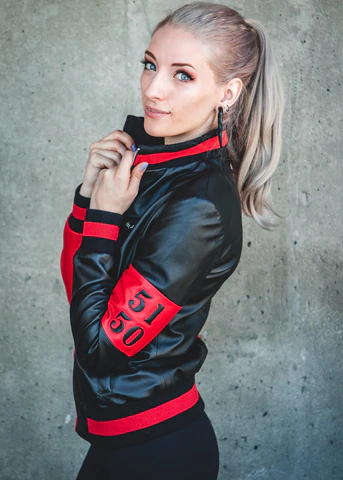 https://www.instagram.com/p/B0cdGnsnQqd/
Harley Quinn has been around since DC Comics introduced her character in the 1992 animated show Batman: The Animated Series in the episode "Joker's Favor."
Of course, we also have the Suicide Squad Harley, the new looks from BOP, and Harley from New 52. Even with so many options, cosplayers are still coming up with inventive ways to embody this devilish anti-hero.
Just check out this closet cosplay! She takes on Harley's traditional red and black colors, but the wardrobe is very reminiscent of the SS Harley outfit. All you need is Luca Design's Harley Bomber Black and Red Leather Jacket, a black wig, and a classic Harley hammer and you're ready to rock!
Star-Lord
https://www.instagram.com/p/BoGIAuvg5QG/
Let's be honest, who doesn't want to be Star-Lord?
Michael a.k.a @writersblockcosplay does an incredible job portraying Peter Quill in this easy cosplay. His helmet and artillery props are the handiwork of a talented craftsman, but you need the archetypical red leather jacket to really capture this Guardian's spirit.
And the good news is, we also have this jacket for women who might want to do a gender-bent Star-Lord cosplay!
Betty Cooper Closet Cosplay
We've all been waiting for Betty Cooper to finally accept her place as a Southside Serpent. Now that we have, female cosplayers have been eager to find a women's Southside Serpent jacket of their own.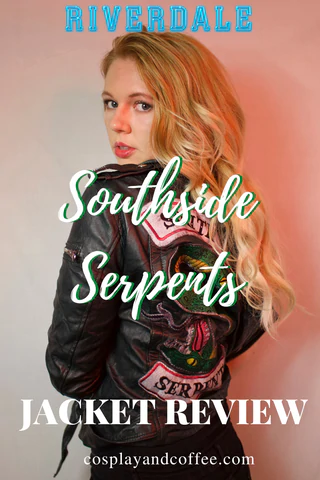 https://www.instagram.com/p/B8xDgIODM_W/
Tiffani a.k.a @cosplayandcoffee decided to recreate this Betty Cooper closet cosplay in direct comparison to the Riverdale actress, Lili Reinhart! Video Review here: https://www.youtube.com/watch?v=q0QVhaQjHfs&feature=youtu.be
For those who might want an easy Jughead or Cheryl cosplay, you can also find our men's Southside jackets and the gorgeous red Serpents leather motorcycle jacket.
Red Hood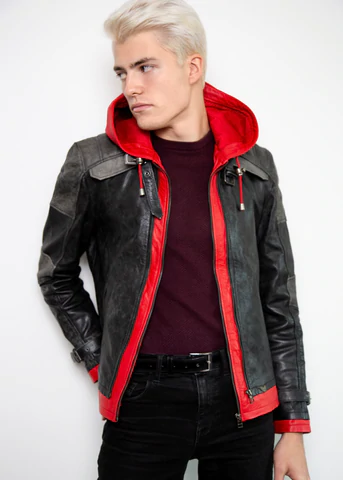 https://www.instagram.com/p/B8AODG_jfm1/
One of our best sellers, and easily one of the most spectacular cosplays we've seen, comes from Glenn a.k.a @nerd_fit. In this photo, he's wearing our Red Hood Leather Jacket with an awesome Red Hood suit underneath.
If you want your closet cosplay to look this spectacular, consider adding a helmet, gloves, and boots to your Red Hood cosplay.
Need more easy cosplay ideas? Check out Luca Jacket's designs for cosplay inspiration!