Barbie first debuted in March of 1959 at the New York Toy Fair. Instead of her baby dolls, Ruth Handler's daughter preferred to play with magazine cut-outs of women. With a flash of motherly inspiration, Handler created Barbie so that her daughter could have more than just cardboard to play with.
Right from the start, Barbie has been a huge success. Over 60 years ago! Today Barbie is still a billion-dollar company.
Just last year, someone even took Barbie's Dreamhouse and made it a reality. Situated in Malibu California, you can actually stay at the Barbie Malibu Dreamhouse through Airbnb for just $60 per night. The real-life Dreamhouse is filled with pink accents, a pool, and ocean views.
If Barbie has been around for over 60 years, why were they successful then, and still so successful now?
Barbie Outshines Competitors
When Barbie was first created, there were no other popular adult dolls. Many mothers had noticed their children preferred to make their dolls perform adult-like tasks. Handler wanted to create dolls that little girls could view as older versions of themselves. It worked. The Barbie dolls provided a way for children to express what they imagined adulthood to be like.
Barbie is also a winner for the parents. She is marketed as being pure and wholesome, honest and kind. These types of qualities are what parents want to purchase for their kids.
Barbie's timeless face also invokes a lot of nostalgia. The Barbie and Ken dolls that parents are buying for their children now have the same look as the barbies they themselves grew up with. The unmistakable signature, the glamour, the pink jackets, shoes and convertibles, all contribute to the recognizable brand. You know when you are holding a Barbie product.
Barbie is Versatile
One of the key features of the success of Barbie is its adaptability. Mattel was very good at making Barbie current, and evolving with the interests of each generation.
For example, she changed in the 1980's from being a housewife to a woman who could work, as the idea of working women became more common. In the 1980s, Mattel released the Astronaut Barbie, during the zeitgeist of space exploration and NASA research. In 1992 Barbie ran for President, the first of what would be 6 campaigns. Among many other careers, Barbie has been a surgeon, part of the US Marine Corps, a robotics engineer, and even a beekeeper.
Mattel was also able to consider cultural issues and political factors. Two years ago, 17 new Barbie dolls were released, that were based on real-life inspiring women from around the world. This was an effort to empower young girls and give them more role models to look up to. See if you know who some of these women are!
Barbie is now more diverse and inclusive than ever.
Join the Barbie World
It is no wonder that after over 60 years of being on the market, Barbie is still hugely successful, and will likely continue to be so. The core product of Barbie is something that people love and are still willing to pursue, be it as collectibles or as toys. Luca Designs' Barbie Doll Pink Leather Jacket perfectly captures the nostalgia of Barbie. This jacket is available in both vegan and real leather.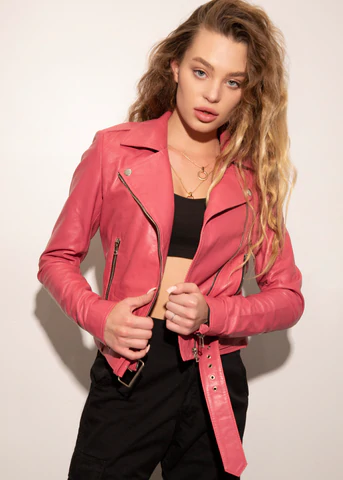 With the classic signature and the Mattel pink, you can immerse yourself in the Barbie world.*
*Dreamhouse not included.