The Ultimate Gaming Costume for Batman Fans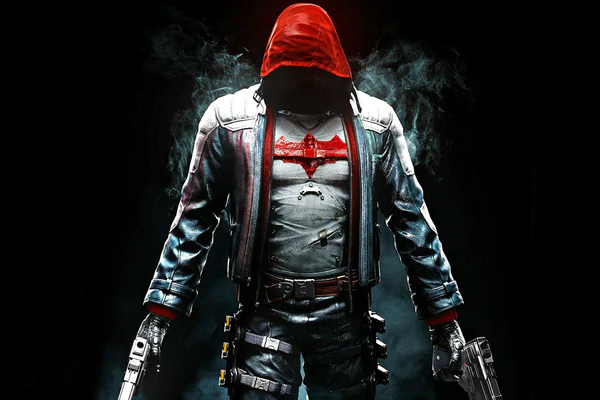 The Arkham Knight hails from the Batman video game of the same name. He harbors a deep-seated grudge against Batman (who doesn't), and by the end of game we find out the Arkham Knight is in fact the Jason Todd, wearing his Red Hood leather jacket costume.

Gasp! The former Robin? But I thought he was killed by the Joker!

If you're following the video game and not the comic books, instead of killing Jason Todd, the Joker held him in the Arkham Asylum for over a year. Through bouts of repeated horrifying torture only the Joker could dream up, Jason Todd's sanity finally broke, his hatred of Batman being the only thing left he cared about. Jason went on to develop a high-tech militaristic battle suit and weapons to seek vengeance on his former mentor, and taking the name "Arkham Knight", set out to complete his vendetta against the Batman.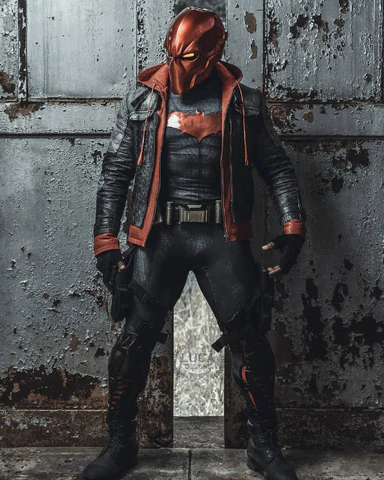 So you're not the hero type. We get it. Our Jason Todd Red Hood jacket gets it too. Handcrafted with durable and high quality leather (available soon in faux leather if that's what you're into) this Red Hood leather jacket can stand up to all your crime fighting activities.
Now that you've had a refresher, you can see why this Batman Arkham Knight leather jacket is so badass. Modeled after the iconic Red Hood from the Arkham Knight video game, every detail has been meticulously crafted to ensure you look and feel as close to the real deal as humanly possible.
The jacket has the iconic red bat symbol on the back, two zippered pockets, and the red hood itself (sorry, mask not included) is also made of our high-quality sheepskin (or faux) leather. The exterior is hand weathered to make it look like you've been out fighting crime all night. And winning.
Our Red Hood Arkham Knight jacket is lined with soft and comfortable viscose with two inner pockets and a hand weathered exterior. The jacket features a buckle at the neck, a classic front zipper closure, and tie cord adjustable hood. I mean, look at this thing! It oozes badassery. Come to think of it, I should go pull mine out of the closet for my mission…I mean, friendly neighborhood meet-up tonight.
Our Batman Arkham Knight jacket ranges in size from extra small to 4XL, with custom sizing available for those who want the perfect fit. And don't worry, you won't have to break into a bank to afford this. Custom sizing is actually affordable, and the Batman Arkham Knight leather jacket itself is currently on sale online.
Luca Designs creates handcrafted, high-quality, customizable leather jackets that are durable and comfortable enough to stand up to your everyday battle scars. Wear it as part of your Batman Arkham Knight costume or Red Hood cosplay. This Arkham Red Hood jacket is a worthy addition to your costume closet or your next gaming night. And I hear there's a Red Hood movie in the works and you know those theaters are always cold…just sayin'.
And lucky you, you don't have to wait for the next comic convention to come your way, you can set this Arkham Knight leather jacket in your sights right now.
Luca Designs creates affordable, handcrafted, custom sized gaming and fashion jackets. These comfortable and detailed leather jackets will be equally at home as part of a costume or your everyday wear. Order your new favorite Batman Arkham Knight Red Hood jacket from Luca Designs today and explore the rest of our gaming inspired arsenal.